Why choose our Cape York Trail Bike Tours
Fair Dinkum Bike Tours a locally owned and operated company for 18 years, our fully qualified local guides are on hand to give you the trail bike adventure of a life time. Dont trust your motorcycle tour with just anyone, join us knowing you will be with a company who has the expertise and knowledge to make your experience a enjoyable lifetime memory..
David Williams has traveled all over Cape York via 4x4 and prior to starting this business 18 years ago he raced Motorcross and the State Enduro series winning numerous races. David is a keen fisherman plus being a Cairns local for 35 years has many friends who have granted exclusive private property access only available to Fair Dinkum Bike Tours.
1 Day Trail Bike Adventure Rainforest Tour
2 Day Motorcycle Adventure Trail Bike Tour
3 Day Motorcycle Adventure Outback Trail Bike Tour
4 Day Ride 'n' Reef Tour
5 Day Trail Bike Adventure Legends Ride
6 Day Rip To The Tip Cape York Escape
8 Day Trail Bike Tour to Cape York - Return via Fly Cape York to Cairns
All tours can be customised for individual groups. We split the group up if there is a mixture of rider skill levels to give everyone the enjoyment of their trail bike adventure.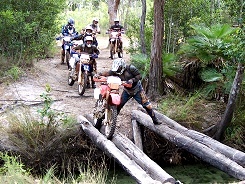 Inclusions
Our motorcycle tours include exclusive riding areas that not many people have the opportunity to visit, where applicable our motorcycle tours include:
Motorcycle hire
Latest riding gear
Meals
Fuel
Accommodation
4WD support (if required)
Bedding/accommodation when required
Fully qualified guides
Satellite communication
Fishing on selected tours
All National park fee's
A $1000 hire bike bond is payable that will be refunded upon safe return of the motorcycle.
Riders must have a current motorcycle licence and if you bring your own motorcycle it must be registered. Riders are responsible for their own personal accident insurance and sign a indemnity agreement prior to the start of our trail bike adventure tours.
What To Bring
We recommend that you bring and wear appropriate motorcycle gear at all times. We can supply limited riding gear if you do not have it.
Sturdy trousers (Nylon Motorcycle pants)
Motorcycle Boots (Don't forget a couple of pairs of thick socks)
Motorcycle Helmet
Elbow & Knee Guards
Gloves and Goggles
Body Armour
For comfort and assured fit, if you have your own gear please bring it. If not we can supply nylons, boots, helmet, gloves, body armour and goggles.
The crew use the support vehicle ( on selected trail bike tours ) to take care of delivering all your personal items, food and drinks direct to each overnight stop enabling you to ride free with only a small day pack containing the following personal items:
Hat and sunscreen
Camera, spare memory card and Go Pro batteries
Drinking container or camelback ( recommended 3 ltr minimum)
Trail snacks
Remember you are in your riding gear all day so few other clothes are needed ( there are limited washing facilities along the way). Space is limited, so please keep it to a small sports bag size (maximum 45cm square). No Gear Bags Allowed. If in doubt leave it out.
A couple of pairs of shorts and T-shirts.
One light sweat shirt and one pair of jeans or trackpants (it can get a bit chilly at night)
One pair of thongs.
A small towel and toiletries
Swimwear
Small torch
Money for souvenirs and entertainment along the way
Spare socks
Bedding is supplied. ( bring you own pillow )
---