Fair Dinkum News
For 2018 we are offering our 7 day Cape York Motorcycle tours price of $4950 per rider. This is a special deal all inclusive with latest hire bike,support crew/vehicle, all camping and accommodation,meals,fuel, Airfare from Cape to Cairns and Nat park fees contact us.
------------------------------------------------------------------------------------------------------------------
Next Stop Baja!
BAJA story in Australasian Dirt Bike May 2015 edition.
Fair Dinkum trail boss David Williams is travelling to the USA in November to join Bruce "Bruno" Anderson of Go Baja Riding and his race team to ride the Tecate Score Baja 1000.
David says they will first pre run the 1000 mile course to see how much damage has been done as the Baja peninsula had a hurricane there a couple of months ago and some of the race course had been affected. The pre run will be for 4 days then a transport back to the start of the Baja 1000 in Ensenada for the start of the 2014 Tecate Score Baja 1000. Dave will be riding a CRF 450X and would like to thank Allen of Pivot Pegz Australia who has donated a set of their latest Mark 3 Pivot Pegz.
Dave will be sending through photo's and a update on the Fair Dinkum Bike Tours Facebook page when they get internet service.
---
New KTM EXC 450 For 2017 Season
We are pleased to announce we have received our new 2017 EXC450 for this season and has been going great.
A big thanks to Jarrod Koppe from Future Sport Motorcycle in Townsville for supplying the bike and setting up the suspension for us. We cant wait to try it out on the trail this weekend.
Come on and join us on our trail bike adventure and you might even get lucky and ride this new 2017 weapon of choice.
---
New Bikes For Our 2017 Season
Hello from the Fair Dinkum bike tours crew, we are getting ready for our 2017 season it is looking like it will be another busy one.
We have got the new fleet of 2017 DRZ 400cc hire bikes, we are busy getting the bikes prepped with Acerbis long range tanks, Afam alloy bars, Barkbusters, B&B Bashplates and suspension mods.
Call us now for your trail bike adventure of a life time.
---
From Cape York to Melbourne Expo
Hi again well, we have returned from the 2012 Melbourne Motorcycle Expo and what a reception. We gave out some 2500 brochures over the 3 days, had a lot of interest for our tours and signed riders up for a couple of tours while we were there with our Expo special offer.
Help from our promo girl Jessie was always welcome, we were kept busy from Friday to Sunday afternoon.Cape York adventures were popular again, we had Tenelle Van Doorn 2012 Victorian women's enduro champion wanting to do a tour in 2013 with her sister and mum..Tenelle was attending on the Sherco stand who is now her bike sponsor for 2013.
We met up with a lot of our friends in the motorcycle industry, right next to our stand was Tania and Clubby from Trailzone magazine, who have regularly featured us in Trailzone and all the manufacturers showcasing their latest products, there was plenty to see for everyone.
Cheers the FDBT team
---
Gas Gas EC 450 FSR For The 2012 Season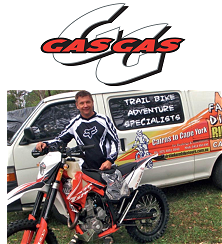 Fair Dinkum Bike Tours is pleased to announce we have secured a 2012 Gas Gas EC 450 FSR for the 2012 season.The 2012 Gas Gas is a great looking bike with all the quality extras standard, retail price of the bike is exceptional value giving riders value for money. Here are some of the features of the 2012 450:
Quick release front axle
Renthal twin wall handle bars with Pro grip racing hand grips
Galfer wave disc front and rear
Revised front and rear Sachs suspension
Read the Trailrider magazine article about our new Gas Gas.
We will keep you informed on our web site and also our Facebook page.
---
New Premises
Fair Dinkum bike tours has purchased new premises to further expand our business. Our new address is Shed 7 170 Mayers Street Cairns.
We are improving our customer base with a new facility along with a brand new workshop to help facilitate our Cape York Motorcyle Adventures.
---
Charley Boorman "By Any Means" doing it Fair Dinkum Style.
Fair Dinkum Bike Tours had the pleasure to be chosen by World Tv personality Charley Boorman to guide him on a 2 day tour from Cairns to Cooktown as part of his latest motorbike adventure "By Any Means". Charley's ultimate goal is the support of UNICEF. Travelling 'By any Means' (the namesake of his new quest) has taken him by air, vintage car, motorcycle and car (hitchhiking in style). Setting off from Sydney on 18th March 2009, the final destination is Japan. Fair Dinkum Bike Tours were chosen for their local knowledge and professional reputation.
The Cairns to Cooktown team complied of Fair Dinkum tour owner David Williams, Charley Boorman and legendary camera man Claudio Von Planta, all riding bikes supplier by Fair Dinkum Bike Tours. Following closely behind was a BBC TV camera crew including (Robin, Sam (BBC producer) and Sarah (logistics from a support vehicle).
Departing from Cairns on Wednesday morning, the team rode via Kuranda State Forest, Mossman, the Daintree National Park and the Bloomfield track, reaching our destination of Cooktown on Friday morning. In true tropical north style, it had been wet the days prior to the start which led to some interesting riding conditions.During the ride Charley had a big 'off' on day two. He was a bit shaken up but thankfully he was ok. He bent the bars and trashed the barkbusters, but in true Charley style he kept riding for the rest of the day he was a bit sore at the end.
"By Any Means" will be aired on the BBC, National Geographic channel and SBS. The DVD and book will be available from November 2009.
---
Check out our support truck
As Fair Dinkum Bike Tours expands to include 5, 6, 7 day motorcycle adventure, the accommodation too must be flexible. As part of our commitment to comfort and to provide a 5 Star service, we now make full use of our custom built 5 passenger capacity support truck.
The truck is dual purpose.
Whilst clients overnight in cabins and bunks on the shorter rides, the longer adventures call for a 'back to basics' experience – as we venture into what may seem like the unknown, we leave civilisation behind and a luxury camping set up replaces bunk beds and cabin style accommodation. The truck is used to carry camping equipment, food and drink, bike spares,fuel and some other emergency supplies.
The truck has the capacity to include passengers, friends and family can enjoy the once in a lifetime experience with you by riding in the truck along with the support crew. Of course they are accommodated and catered for as part of this wonderful trail bike adventure. They do all that the riders do, apart from ride. This includes visiting the outback, camping out, catching up with local stories and information.Included in the tour package passengers are flown back from Cape York to Cairns at the completion of the tour.
Cost for passengers to enjoy the 8 day Cairns to Cape York trail bike adventure is $1950 AU per person.
Any enquires please contact us.